Universal 3-in-1 Pro Audio Headset Switch
PRODUCT INFORMATION
Business Pricing
Delivery & return
Questions & Answers
Reviews
PRODUCT INFORMATION
Kensington's Universal 3-in-1 Pro Audio Headset Switch allows professionals to use their favorite wired or wireless headset (Bluetooth, USB-C, USB-A, or 3.5mm) as they switch between different devices (laptops, phones, and tablets). Accommodates up to three different audio sources, automatically remembers previously paired devices, eliminates the need for multiple headsets, and works with Microsoft Teams, Google Meet, Zoom, WebEx, and more.
Use your favorite headset (Bluetooth, USB-C, USB-A, or 3.5mm wired) across different devices and operating systems - including laptops, phones, and tablets. USB-C (m) to USB-A (f) headset adapter included.
Join meetings on Microsoft Teams or Zoom while transitioning to music on Spotify or Apple Music without changing your headset - increasing your productivity and decluttering your desktop.
Easily transitions between audio sources and automatically connects to one wired and two paired (Bluetooth) devices - leveraging premium channel isolation so you always sound like a pro.
Dedicated buttons help you easily transition between audio sources, LED lights provide confirmation of the channel and device you are using, and precise switching guarantees uninterrupted connections.
Easy to reach volume controls and a mute button that will silence microphone signals across all wired and paired devices - while illuminating red so you can be confident that you are definitely muted.
No outlet required - simply attach to any open USB-A port (5V/0.9A) on your Windows or macOS computer to power and enable data transfer for audio. Includes one 1m (3.3ft) USB-C to USB-A cable.
Connect with confidence knowing Kensington stands behind the Universal 3-in-1 Pro Audio Headset Switch with a 2-year limited warranty.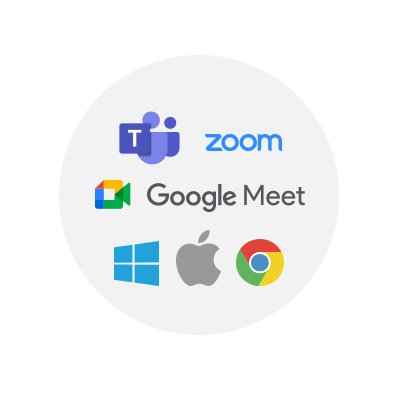 Universal Compatibility
Use your favorite headset across different devices and operating systems.
Supports a Pro Desktop Setup
Transition between meetings and music without changing your headset.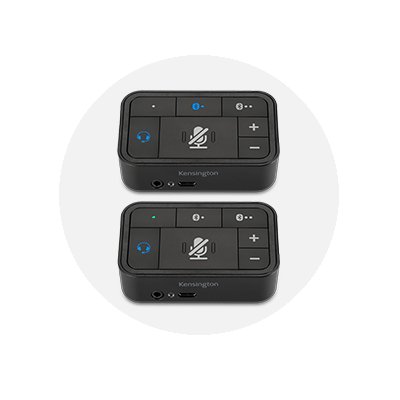 Smart Technology
Easily transitions between audio sources and automatically connects to paired and wired devices.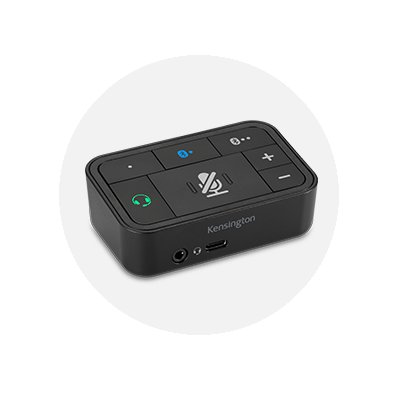 Simple & Precise Audio Switching
Dedicated channel buttons and LED lights provide visual confirmation of active connections.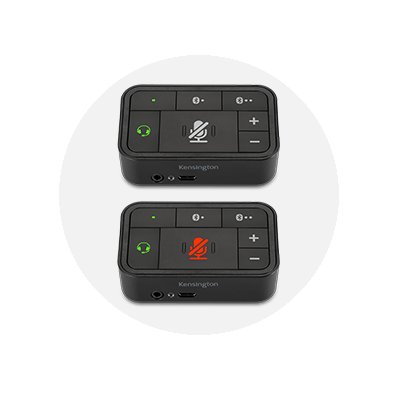 Mute and Volume Controls
Easy to reach and see buttons.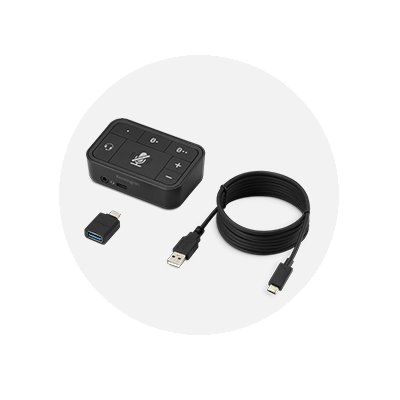 USB-Powered
No outlet required and includes connection cable.
Kensington Ecosystem Compatible
Easily paired with quality headsets from Kensington.
Business Pricing
Looking to place an order of 25 units or more for your organization? Simply fill out the form below, and someone on our team will be in contact shortly.

Delivery & return
If you are not satisfied with your Kensington purchase, please call 1-800-243-2972 within 30 days of receipt to obtain a Return Material Authorization (RMA) number and instructions. We're available to support you from Monday - Friday from 7:30am until 6:30pm PT.
Return/Exchange
Products may be returned for a full refund of the product purchase price plus applicable taxes within 30 days of receipt. Orders may be subject to a 20% restocking fee and all shipping and handling charges are the responsibility of the customer. All refunds will be refunded via the payment method the order was received.
Kensington recommends that you use a carrier that offers tracking for all returns and that you insure your package and declare the full value of the shipment so that you are protected if shipment is lost or damaged in transit. If you choose not to use these services, you are responsible for any loss or damage to the product during shipping. To ensure proper credit, packages should be returned with clearly marked with the RMA number and packing slip placed in the shipment prior to returning to Kensington. If you return product without an RMA number, your shipment will be refused and returned to you at your expense.
Defective Product
If you discover what you believe is a product defect for any Kensington product, please contact Customer Support at 1-800-243-2972. If your product does have a defect, your product is covered under the terms of your product's warranty. Please refer to the warranty information and other supporting documentation that came with your product.
Damaged Product
If you receive a damaged product, you must notify Kensington within 48 hours of delivery at 1-800-243-2972. Kensington will investigate the claim and notify the freight company of the damage. Please retain all packaging in the event that Kensington or the freight company needs to inspect it. These investigations may take several days but merchandise replacements will be processed as soon as possible.